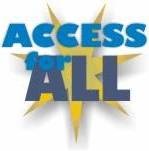 Thank you for visiting!

What do we need to succeed?

I believe passionately that all people want and need to succeed in life! To do this, we must all have tools and information and, most of all, help from other people. We have to use our abilities and find ways to work around our problem areas, if we can. Sometimes we just have to take a look at ourselves and admit that we really can't do something. We need to find someone who can.

How can we work together?

I'm looking for ways to work with and help other people succeed, including people with disabilities. Who wants to explore what we might do and to get started? What are others doing to be part of the solution? How can everyone really be part of this society? Right now, many of us feel marginalized.

Here's what I do well:

listen carefully
find information
help other people
find solutions
I'd like to hear from you if you have ideas or projects for helping people of all ages and backgrounds and needs. We can succeed, and so can they.

Email me at agorman@accessall.net

Regards!

Audrey J. Gorman